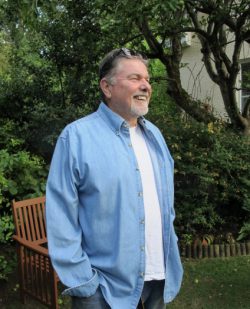 I've always had an interest in art since, as a small boy on a Bristol housing estate, I produced numerous 'paintings by numbers' which I was very proud of (and pretended nothing numerical was involved!). After gaining an 'A' Level in art, I hung up my paintbrushes to pursue a career and earn a living.
I maintained an interest in art, visiting countless galleries at home and abroad, my favourite gallery being the Musee D'Orsay in Paris, home of many Impressionist by my favourite artists, include Monet, Manet, Pissarro and Boudin. I decided to start painting 'a tad more seriously' ten years ago, enrolling on a watercolour course at the City of Bristol College.
I'm still experimenting with my painting: I believe you should paint what you like painting, and I like a lot of things! I enjoy painting landscapes, seascapes, buildings, flora and fauna (I fancy myself as a butterfly painter, but reality hits when I look at the work of Gordon Beningfield!) and, while I usually paint in fine detail (using a 10/0 'liner' brush, about the size of an eyelash!), I'd like to develop a much looser style, where the paint suggests an image rather than trying to create a 'photograph'. My painting has become more abstract since a visit to an Ann Blockley exhibition – stacks of realism in her work, but on an abstracted backdrop. I exhibit in local exhibitions, fairs and markets, and have made friends with some wonderful people within the art fraternity, and have also given presentations and demonstrations.
I have no illusions about my painting ability and, like every other painter in the world, I have a lot to learn.
I'm a Friend of the Royal West of England Academy (RWA), an historic Bristol institution which is committed to providing great art for everyone and promoting the understanding and enjoyment of art. I recommend anyone living locally and beyond who has an interest in art to become a Friend and help secure the future of one of Bristol's gems.Your membership fee includes free access to all the major exhibitions. Plug over…except get yourself over to the RWA site now and join up! (www.rwafriends.co.uk)
I hope you enjoy the content of the website, and if you require tuition or want to purchase any of my art work, please contact me on 07399 457211 or email me at jeffmartin1771@gmail.com
An Aspiration
I like the idea of working within an art community – a bit like the Newlyn crowd or the Glasgow Boys – a group of like-minded people immersing themselves in art, away from the distraction of everyday life (however pleasant these are). I couldn't make such a life permanent, but a couple of weeks checking out a bohemian way of life as an artist does appeal to me, living in a country or coastal house with no agenda or timetable except for painting, eating and drinking and sharing arty ideas and opinions around a log fire…bliss, or what?
If there are any other like-minded people out there who would like to explore the idea, get in touch.
07399 457211